Founder and Reviver of Sripura Sarvajnapeetham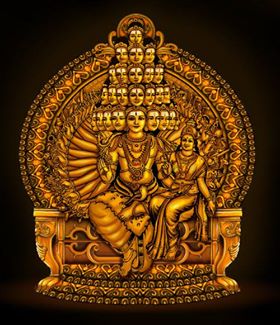 The Original Source Divinity – who manifested Himself as the Cosmos and formed the Hindu Kingdoms, ruling and protecting the enlightened ecosystem including the Sripura Samrajyam. It is from Bhagavan Sri Paramaśiva, the Primordial Source, and his consort Devi that the Kailaasa Paramparagatha Sripura  Sarvajnapeetham Samraya was established.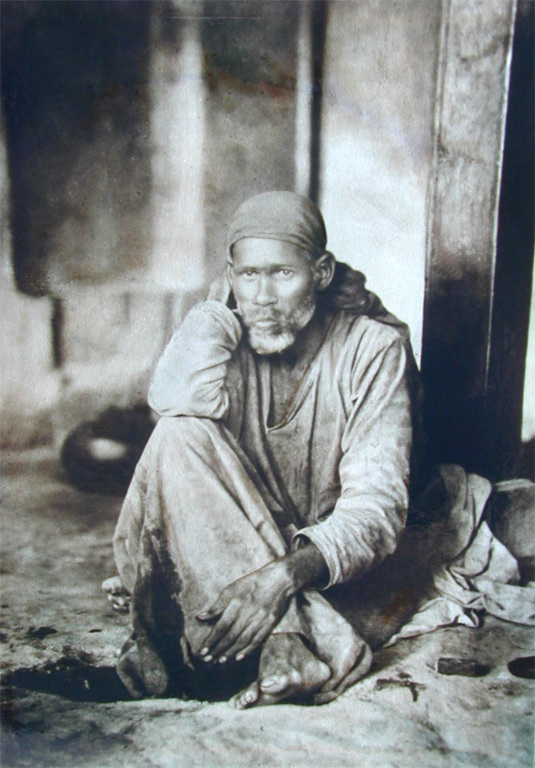 Sai Baba of Shirdi, also known as Shirdi Sai Baba, was an Indian spiritual master who is regarded by his devotees as a saint, a fakir and a satguru. He is revered by both his Hindu and Muslim devotees during, as well as after his lifetime.
Saibaba is  revered as incarnation of Sri Dattatreya and considered as Saguna Brahma by his devotees. He is attributed to be the creator, sustainer and destroyer of this universe by his devotees. He is decorated with jewels and all forms of Hindu Vedic deities as he is believed by his followers to be the supreme God.
According to accounts from his life, he preached the importance of realization of the self and criticized love towards perishable things. His teachings concentrate on a moral code of love, forgiveness, helping others, charity, contentment, inner peace and devotion to God and guru. He stressed the importance of surrender to the true Satguru, who, having trod the path to divine consciousness, will lead the disciple through the jungle of spiritual training.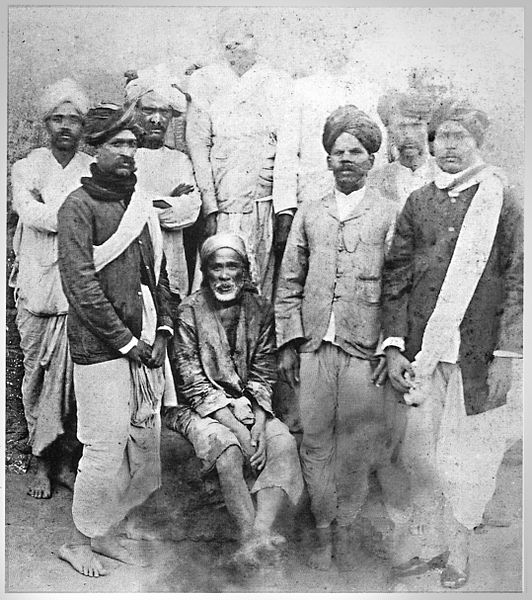 Sai Baba with some devotees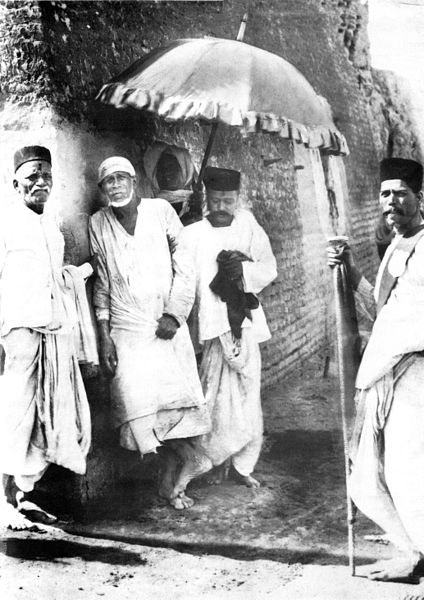 Shirdi Sai Baba, leaning against the wall of his masjid, with devotees
Sai Baba interpreted the religious texts of both Islam and Hinduism. He explained the meaning of the Hindu scriptures in the spirit of Advaita Vedanta. His philosophy also had numerous elements of bhakti. The three main Hindu spiritual paths — Bhakti Yoga, Jnana Yoga, and Karma Yoga — influenced his teachings.
Sai Baba encouraged charity and stressed the importance of sharing. He said "Unless there is some relationship or connection, nobody goes anywhere. If any men or creatures come to you, do not discourteously drive them away, but receive them well and treat them with due respect. Sri Hari (God) will certainly be pleased if you give water to the thirsty, bread to the hungry, clothes to the naked, and your verandah to strangers for sitting and resting. If anybody wants any money from you and you are not inclined to give, do not give, but do not bark at him like a dog.
Sai Baba's performed many miracles such as bilocation, levitation, mindreading, materialisation, exorcisms, entering a state of Samādhi at will, lighting lamps with water, removing his limbs or intestines and sticking them back to his body (khandana yoga), curing the incurably sick, appearing beaten when another was beaten, preventing a mosque from falling down on people, and helping his devotees in other miraculous ways. He also gave Darshan (vision) to people in the form of Sri Rama, Krishna, Vithoba, Shiva and many other gods depending on the faith of devotees.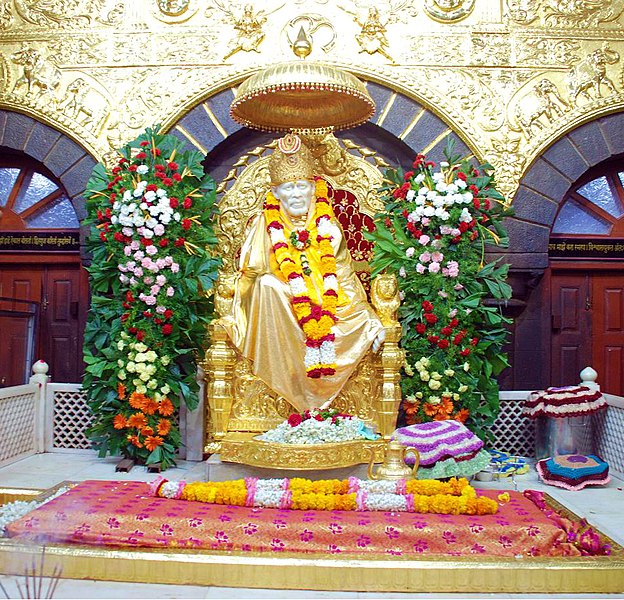 Sai Baba's Temple in Shirdi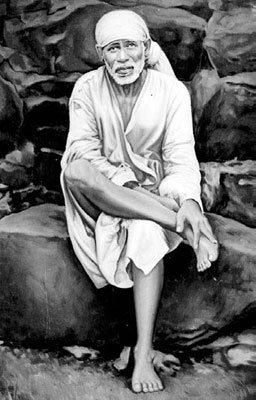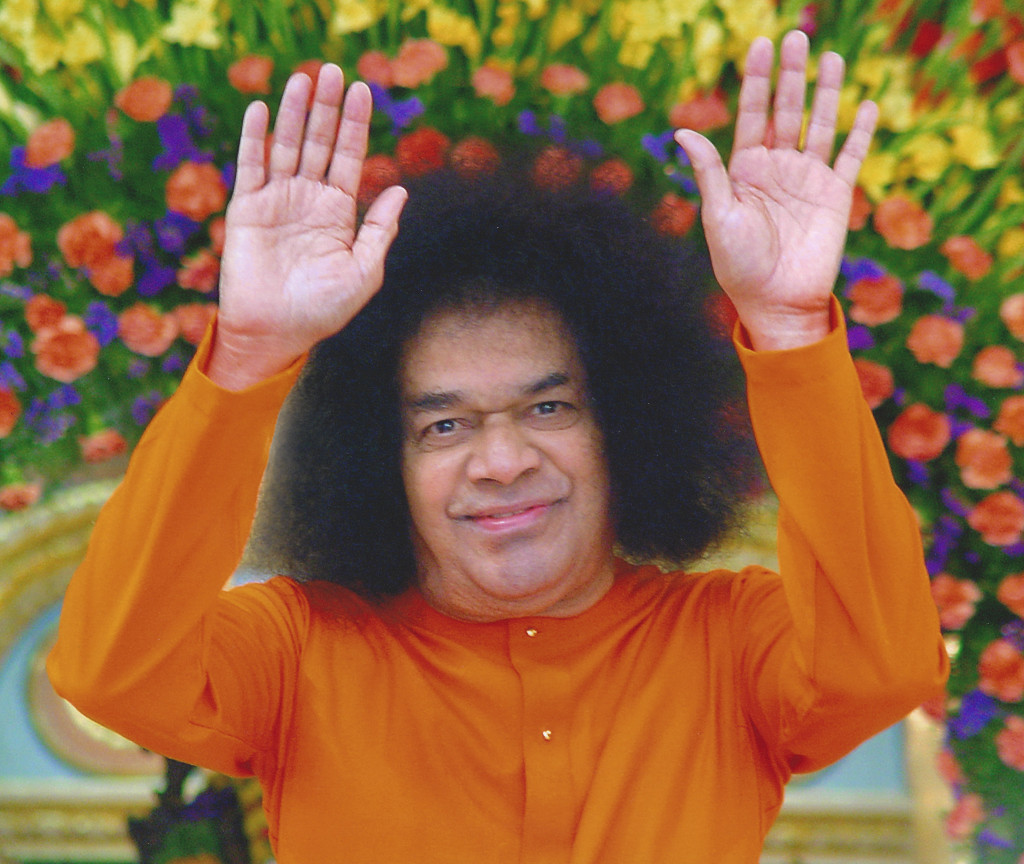 Sathya Sai Baba was an Indian guru and a spiritual leader. He was the reincarnation of Sai Baba of Shirdi. Sathya Sai Baba's  materialisations of vibhuti (holy ash) and other small objects such as rings, necklaces, and watches, were a source of fame.  Innumerable reports of miraculous healings, resurrection, clairvoyance, bilocation, and alleged omnipotence and omniscience have been attributed to Sathya Sai Baba by both devotees and non-devotees. Sathya Sai baba was also on a mission to revive the traditions of Hinduism and restoring traditional Hindu Kingdoms. He recognised and coronated The SPH as not only King but as 'the Avatār (Incarnation of Paramaśiva)' before he left the body. It was a rare instance of a living Avatār (Incarnation) recognising and coronating another living Avatār.
The Sathya Sai Organisation, founded by Sathya Sai Baba "to enable its members to undertake service activities as a means to spiritual advancement", has over 1,200 Sathya Sai Centres (branches) in 126 countries.Through this organisation, Sathya Sai Baba established a network of free hospitals, clinics, drinking water projects, auditoriums, ashrams and schools.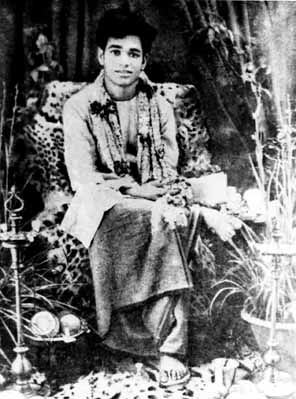 Sai Baba at the age of 14, soon after proclaiming he was the reincarnation of Shirdi Sai Baba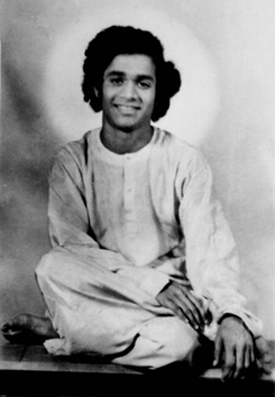 As a child, he demonstrated exemplary qualities of compassion, generosity, and wisdom, which clearly distinguished him from the other children of his village.
On 23 November 1999, the Department of Posts, Government of India, released a postage stamp and a postal cover in recognition of the service rendered by Sai Baba in addressing the problem of providing safe drinking water to the rural masses. In January 2007, an event was held in Chennai Nehru Stadium organised by the Chennai Citizens' Conclave to thank Sai Baba for the 2 billion water project which brought water from the River Krishna in Andhra Pradesh to Chennai city. Four chief ministers attended the function.
Indian Prime Minister Manmohan Singh, a Sikh, said the country would remember Sai Baba as someone who "inspired millions to lead a moral and meaningful life." The Indian Department of Post released a commemorative stamp on the spiritual guru on the occasion of what would have been his 88th birthday during November 2013.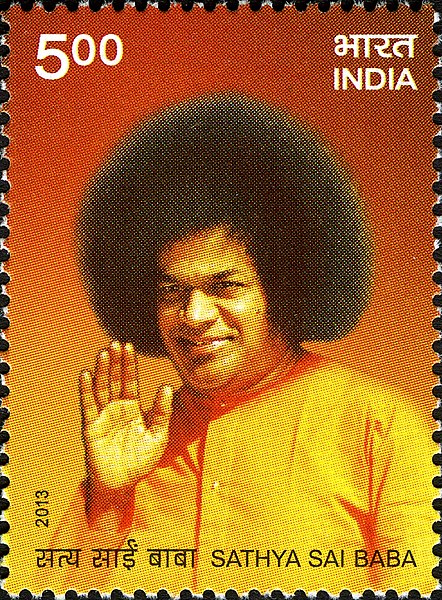 Sathya Sai Baba on a 2013 stamp of India